Knuckleheads Saloon Indoor Stage | Kansas City, Missouri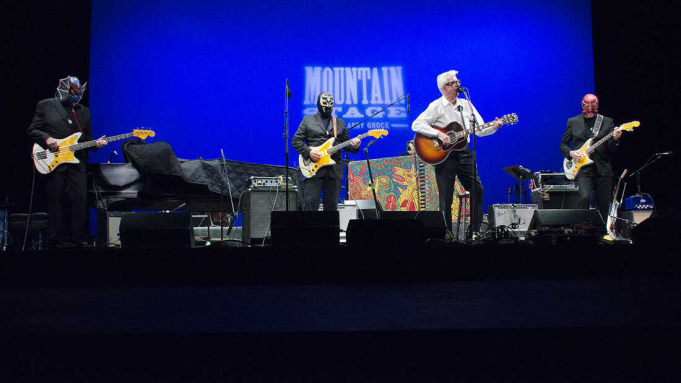 GET READY, KC! True rock-n-rollers Nick Lowe & Los Straitjackets are cruising into town! On November 15, 2023, these legends are gracing the stage of our renowned Knuckleheads Saloon Indoor Stage, right here in Kansas City, Missouri. It's like a rad dream come true, ain't it?
With a ticket straight to rockabilly heaven, this concert guarantees an extraordinary live show experience that'll knock your Doc Martens off. If you've had some serious Jonesin' for a live gig, you won't want to miss this! Promise you this much - Your face will be rocked OFF, your mind will be blown OUT and your soul reset. Zilch compares to the rush of live music, am I right, or am I right?
Nick Lowe's smooth tunes like "Cruel to Be Kind" and "I Love the Sound of Breaking Glass" alongside Los Straitjackets' instrumental surf anthems will take you on a retro rollercoaster ride. This dynamic combination is 100% Grade A, clutch for any music lover.
Feel the pulse-racing beats, the electrifying strums, the raw, all-encompassing energy that only comes from these immortals in the flesh. That's the magic, man! It's going to be LOUD, it's going to be LIT, it's gonna give you all the FEELS as they embark on this monumental tour.
So get in gear, dust off that vintage band tee and grab your ticket for the TOUR of the year. This is the stuff of legends, people. Get primed for a night of raucous revelry, and unparalleled rock-n-roll. Be a part of it all, live and uncut at Knuckleheads.
One word of wisdom before we part - Don't Sleep on This! BE THERE or be square!
Hold onto your ROCKIN' hearts, music-lovers! The legendary Nick Lowe and Los Straitjackets are stormin' into Kansas City to set the stage ALIGHT at Knuckleheads Saloon Indoor Stage on November 15, 2023. Brace yourselves for a night of killer riffs, unforgettable melodies, and a pure onslaught of electrifying vibes. Can you hear that? That's the sound of your next concert obsession!
Hailing all the way from the colourful, chaotic streets of London, UK, Nick Lowe, that guru of pub rock, new wave and country music, is teaming up with Nashville's surf-rock maestros, Los Straitjackets. We're not just talking any tour—this is THE tour of the year: a stormy rock 'n' roll marriage made in sonic heaven.
Kick-starting his career with Brinsley Schwarz in the 70s, Nick Lowe has been a force to be reckoned with for decades. Styled a "Jesus of Cool", he's seduced us with countless hits, from "Cruel to Be Kind" to "(What's So Funny 'Bout) Peace, Love, and Understanding". His lyrics? Pure poetry. His rhythm? Infectious. His chords? Crackling with energy.
On the other side, Los Straitjackets bring a classic twist with their wrestling masks and potent surf-rock riffs. Their instrumental beats are simply addictive. "Jetty Motel"? "Pacifica"? Absolute BANGERS. They have more groove than a vintage vinyl shop, folks. Surf's up indeed!
Now, let's talk about the venue – Knuckleheads Saloon Indoor Stage, Kansas City's very own music Mecca. Known for its rustic charm and raw acoustic quality, it's a spot where artists and patrons become one with the music. This ain't no sterile concert hall; this home of rock, blues and honky-tonk has got SOUL. It's the heart of the MO-side of KC's night scene. And trust us, with a couple of cold ones from the bar, the world becomes a better place in here.
So, what're you waiting for?! This ain't no ordinary Nick Lowe and Los Straitjacket concert. It's a rip-roaring, heart-thumping, soul-shaking musical melee! Guaranteed to leave you gasping, grinning, and begging for a encore. A night that will be etched on your heart and memory.
So, snag your ticket now. 'Cuz they're HOT and they're selling like those famous KC barbecue ribs. Join us at Knuckleheads, Kansas City this November 15th. Dive into the rhythm, soak in the lyrics, and let the music take you on a journey.
Grab your ticket. Experience the magic. Trust us, you won't regret it!