Knuckleheads Information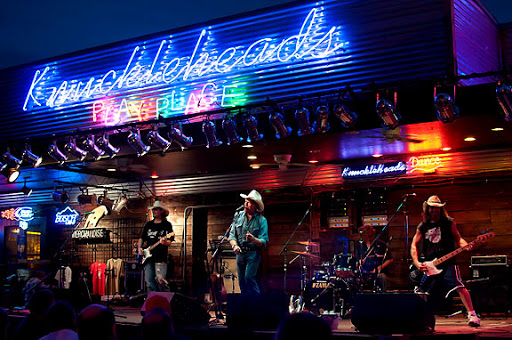 History
The venue's deep history rooted within gospel and blues music is apparent from the moment you walk in and you just know you're in for a night of feel good entertainment.
You just have to look around at the venue decor to know you're in the right place, as at the Knuckleheads you'll find plenty of painted murals on the wall of some of music's biggest blues, rock and country artists from the legendary Elvis Presley to Hank Williams Sr, Jimi Hendrix, John Lennon, Buddy Holly and more…
Before the venue became the Knuckleheads back in 2001, the building was originally built as a railroad boarding house, giving it it's now distinctive and quirky style and paving way to creating a venue next to the train tracks. Many performers and crowd members have become used to the sound of train whistles throughout the concert experience and the two things go hand in hand.
This background story gave the venue owners an incredible concept to convert a caboose as the main outdoor stage and now the feature has become one of the most famous elements to the venue and is often one of the main reasons music fans attend.
Knuckleheads is known for it's groundbreaking collection of talented performers. The venue has seen many iconic bands and solo artists take to it's numerous stages throughout the years it is open five nights a week and often hosts concerts on every single one of those nights.
Just some of the most well known musicians to have performed at the venue include the likes of; Sam Bush, Dale Watson, John Doe, Leon Russel, Nick Lowe, Ian Moore, Ray Price, Amanda Fish, David Lindley among many many more.
Knuckleheads truly is a one of a kind venue!


Address
Knuckleheads is located at:
2715 Rochester Street,
Kansas City, Missouri, United States
Contact
Telephone (816) 483-1456
Opening Hours
Wednesday: 6pm – 1am
Thursday: 6pm – 1am
Friday: 6pm – 1am
Saturday: 12pm – 1am
Sunday: 12pm – 1am
Additional links for Knuckleheads Saloon:
Ticket Policy:
Read ticket policies and important authenticity guarantees for any tickets purchased via this site.
Seating Map:
Check out the Knuckleheads Saloon seating chart and view different seating options.
Parking Information:
Read more about parking at Knuckleheads and driving to the venue.