Knuckleheads Seating Chart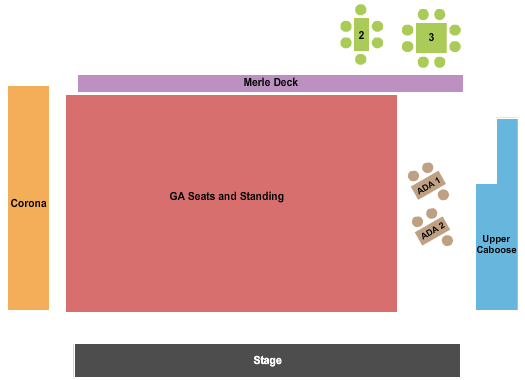 Knuckleheads has plenty of options when it comes to seating and standing areas as it boasts of four different stages to experience and often all four have live music playing at the same time.
On a Wednesday evening Knuckleheads is transformed and the Gospel lounge holds a unique setting for a blues infused church service each and every week. The Gospel lounge has a capacity of 60 people all seated.
On it's other nights Thursday to Sunday, Knuckleheads opens it's doors for music only and brings some of the biggest and best musicians to it's three other stages all throughout the concert season.
Outdoor at Knuckleheads you will find the converted caboose stage with VIP seating to the side which holds the largest amount of people, with an impressive capacity of 1300. This stage is the Knuckleheads most popular choice as nothing beats the buzz of being outdoors and watching your favorite artist take to the stage. (See seating chart for more information)
The second largest area is located indoors and is famously called the Garage which can hold an amazing capacity of 750.
The next biggest area is indoor in the saloon which can fit a well rounded crowd of 300.
And last but not least the Fender stage which holds an intimate setting of 50, for that up close and personal feel to the evening.

All areas will not disappoint as the venue owners are well known for their hard work to ensure the very best technology when it comes to a full sound and a flawless view from where-ever you sit or stand during a performance.
Knuckleheads provides comfortable seating all with a western and blues inspired decor so that you can feel as though you've travelled back in time to experience live music at it's best!
NOTE: Different events may require different seating arrangements. When selecting your tickets double check the seating chart for the specific event layout.
You can reserve your ticket today and secure the best seats. Check out the Knuckleheads schedule to see all upcoming events.
For all ticket policies and authenticity guarantees see the ticket information page.