Knuckleheads Saloon Indoor Stage | Kansas City, Missouri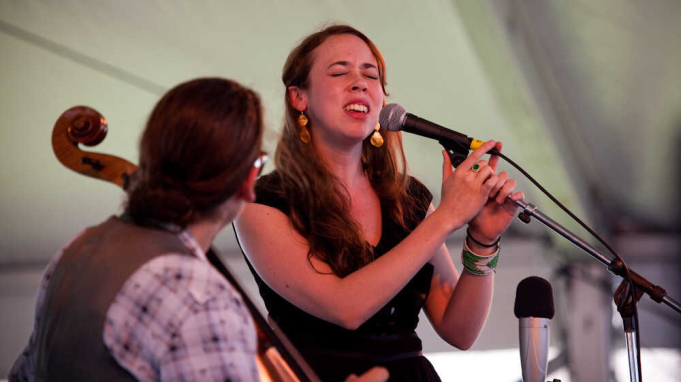 CIRCLE IT on your calendar, folks! Sarah Jarosz, the GRAMMY AWARD-WINNING troubadour herself, is heading straight for Knuckleheads Saloon Indoor Stage in Kansas City, Missouri, on June 4, 2024! Prepare for a night of STIRRING soul-searching ballads and ROOTSY romps. Get your boots tapping to the best of bluegrass, waiting to be DEVOUR by your eager ears. Cherish the intimacy of the indoor stage, where every string pluck and heartwrenching lyric from Jarosz's greatest hits like 'Build Me Up From Bones' and 'Run Away' will resonate deeply, HYPNOTIZING your senses. Life is a SONG, best sung LIVE. So, gather your kin, your pals, your better halves and let's fill those seats! Need a memory to cherish? THIS. IS. IT. Hit the website, grab those tickets, feel the magic of Sarah Jarosz up close and personal. Tickets selling FAST - grab 'em, hold 'em close, see you there!
Oh boy, oh boy folks! Strap yourselves in for a musical experience that'll shake your soul and sweeten your senses, cause we've got a heapin' helping of bluegrass coming your way. On June 4, 2024, the heavenly melodies of the incredbile Sarah Jarosz will be raining down at the much-loved Knuckleheads Saloon Indoor Stage in Kansas City, Missouri. Guaranteed, this ain't gonna be any ol' ordinary gig.
Immerse yourself in heart-tweaking stories interwoven with foot-tapping rhythms. A stunning mosaic of mandolin, banjo, and guitar will sway you while her angelic voice will successfully convince your heart that it has wings. Oh, did I mention harmonies? Swell, soul-stirring harmonies that'll have you swayin like willows in the wind! Jarosz's live shows are a spectacular fusion of bluegrass, country, and folk, an alchemical mix that results in what can only be called 'grass-folk' – familiar yet wholly unique.
About Sarah Jarosz
For anyone not in the loop, Sarah Jarosz is a string-pluckin' triple Grammy Award-winning marvel who'll send shivers down your spine. She's been wowing audiences since young, and to be in her presence - well it's like communing with the spirit of music itself. You see, Jarosz is not just any performer; she absorbs the energy from her crowd and mirrors it back in an exalted, electrifying performance. Be it her remarkable skill on her signature octave mandolin or that ethereal voice which threads stories of love, loss and life – folks, it's music magic like no other!
Knuckleheads Saloon Indoor Stage Information
Ah, and let's not forget the famous Knuckleheads Saloon. Known far and wide, situated smack-bang in the throbbing heart of Kansas City. Known for its music devotion, this venue has housed scores of remarkable artists, making music-lovers go weak-kneed with its spectacular acoustics and raw, down-to-earth atmosphere. You're not just going to a gig, you're stepping into a music-lover's heaven where the heritage of great music has seeped into every nook and cranny.
Ticket Information
Okay then, so you're ready and rearing to go to this phenomenal show? Wonderful! Tickets can be purchased from the box office, but we gotta tip ya off - the place you're going to find the real deal, with low prices and almost nonexistent fees, is "Ticket Squeeze". Good old Ticket Squeeze is like the secret backdoor into your favorite gigs, making sure your wallet doesn't weep while you whoop.
Remember folks, moments like this live performance by the awe-inspiring Sarah Jarosz come as rare as a blue moon. This is your chance to be a part of something truly extraordinary. Put on those dancing shoes, allow yourself to be pulled into the magical world of Sarah's soulful melodies, and let the music move you in ways you never thought possible.
Get your tickets today! You won't be sorry, rather you'll be soaring off the sheer musical rapture. And a warning – you risk falling head over heels, hopelessly in love with the resonating sound of grass-folk music!